For the past 35 years Footworks primary focus has been to provide conservative foot care management to healthcare providers.  Hospitals, physical therapists, surgeons and certified pedothists have all benefited from our very effective foot care products. Footworks will continue to provide foot care solutions to these healthcare facilities and has expanded its focus to the millions of people who are seeking quality foot care products for heel pain, ankle pain and knee pain.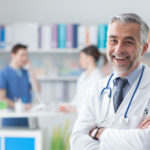 Our expert staff's responsibilities are to educate each of our customers about their foot condition, anatomy, and prevention of any future problems. We only recommend the foot care products that we would use ourselves.
About the inventor of the Ultimate Heel & Arch Orthotic
The Ultimate Heel & Arch Orthotic is the foundation of Footworks.net. It was designed by noted Foot Surgeon, Dr. George G. Budak, a Podiatrist of 40 years. Dr. Budak designed The Ultimate and dispensed it to his patients as an alternative to the very expensive custom made orthotics. He felt that foot care should be affordable for everyone. The Ultimate Heel & Arch Orthotic is effective treatment for plantar fasciitis, heel spurs, metatarsalgia and stabilization of the foot, ankle and knee. With over 250,000 pairs dispensed, the Ultimate has been used by just about everyone! From The US Navy, White House Secret Service and US Boarder Patrol Agents.  We even dispense our Ultimate Heel & Arch Support to the NFL, NHL and Professional Baseball Players.