The U.S. navy now uses the Ultimate Heel and Arch Support for our troops suffering from Plantar Fasciitis, Achilles Tendinitis and metatarsalgia!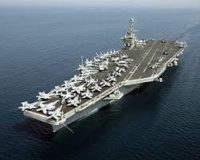 Try to imagine working on the steel deck of a U.S. Aircraft Carrier! Long hours, extreme weather conditions and severe foot pain.  This is not an ideal situation for our men and women who step into harms way to defend our freedom.
We at Footworks.net are very proud that the U.S. Navy has chosen us to help these soldiers with our foot care products.  It is truly an honor to provide our soldiers with foot pain relief.  This will allow them to improve on the already outstanding job that they perform everyday.  When our soldiers do have heel or arch pain the Navy Doctors turn to Footworks.net for solutions.
We have so much faith in our Ultimate Heel and Arch Support that we guarantee it for 30 days for your total satisfaction!  What this guarantee means is, if you do not have any pain relief after 30 days of use, or if you are not totally satisfied in every way, simple return the product for a total refund of the product price (shipping cost is not refundable).
Footworks.net is dedicated to our brave men and women who defend us daily!  We will donate a portion of each sale to the Wounded Warrior Project.  Please consider your own private donation by visiting their official site here.  They have helped us, now it is our turn to help them!